If you thought it was over after the GRAMMYs, you were definitely mistaken! Some of the music industry's biggest names gathered in Inglewood, California last night to celebrate iHeartRadio Music Awards. As always, it was a night to remember (even without handing out awards to the wrong people). Performances by Ed Sheeran, Katy Perry and Noah Cyrus (yes, there's another Cyrus); and heartfelt speeches from award winners, such as Justin Timberlake, The Chainsmokers and Twenty One Pilots, made the crowd go wild.
In case you missed out on the chance to tune in, here is a recap of the best moments of the night…
Justin Timberlake drops a surprise F-bomb, while accepting his Song of the Year award.
Justin Timberlake speaks out about inclusion, an issue the whole world struggles with, daily. He emphasized that the song was written to bring everyone together. And in case the message wasn't clear enough, he made sure everyone took notice at the end.
DJ Khaled brings along his adorable son on stage, while introducing Ed Sheeran's performance.
Imagine growing up being able to brag about being on stage at iHeartRadio Music Awards before you could even walk. That's one lucky little boy!
Chris Martin starts a mosh pit during his performance with The Chainsmokers.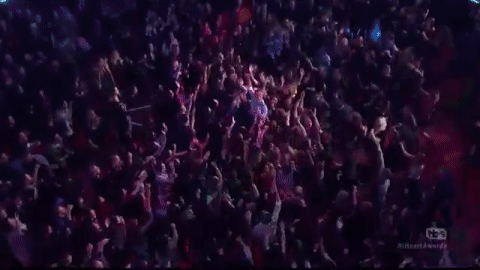 Who knew Chris Martin was this cool? As if we needed more reasons to love Coldplay's frontman; he joined the crowd and got a whole other party started.
Miley Cyrus gives a heart-warming introduction of her younger sister, Noah Cyrus.
https://www.youtube.com/watch?v=qowDIlfW_io
Can this family be more talented? Did anyone know there was a younger sister? Miley Cyrus made it known to the world that it's time to keep an eye out for her "favourite person in the entire world."
Bruno Mars was certainly the man of the hour at the ceremony, last night.
Not only did he wow the audience with his new single "That's what I like", but he also snatched up the most prestigious award of the night – Innovator Award.